About My Business And I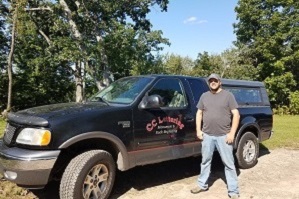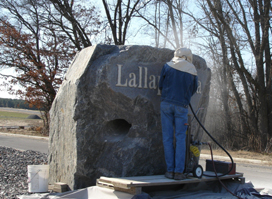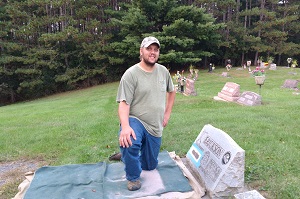 I started my cemetery lettering business in 1982 when a local lettering man Tom Sandberg asked me if I wanted to take over his business because of his failing health. With his training, a lot of questions to other people, and a lot of trial and error, I learned the process of engraving rocks and gravestones. Rocks have always been a passion of mine and I have built several rock fireplaces and retaining walls.
While most of my lettering consists of death dates that I get from monument dealers and funeral homes, I also engrave a lot of rocks, pet markers, and gravestones for the general public. I have many rocks in stock from 1-1,000 lbs. which can be used for name stones, garden stones, porch stones, wedding gifts, pet markers etc. I will engrave boulders right on site. In addition, I have 8 different colors of granite pet markers in stock. They are 8"x16"x 4", polished on one side. I cover a radius of about 80 miles here in beautiful west central Wisconsin.
I have invested a substantial amount of money in equipment which includes a new rotary screw 70 cfm air compressor, a new 15" Gerber portable stencil plotter, laptop computer, and Gerber monument and sign making software which enables me to program and plot out the stencil right at the job site. This saves me a lot of time and allows me to do a very professional looking job on each stone. Many of the stones that I letter have several variations of computer cut lettering that I have to match up, so my portable plotter is almost a necessity. I just type in the needed lettering in the same font that I have to match up on my laptop, modify it if necessary, plot out the stencil, and I am ready to stick it on the stone for blasting.
If you would like, you can also e-mail me a file of your own design and I can plot it out when I get to the job site. If necessary, I will modify it before I plot it. I can also scan your drawings and convert them into a Gerber plt. file. I have an extensive collection of fonts and designs such as angels, flowers, vines, wedding rings, praying hands, animals, emblems, crosses, scenes, borders, monument designs, etc. in Gerber plt. files.
We live in scenic bluff country, just one half mile from the dairy farm where I grew up. My mother and father still reside there. Our house is located between Merrillan and Black River Falls. My wife Bonnie helps me with the office duties. My son Dan now has his own date cutting business called PRIDE LETTERING in Menomonie WI. My daughter Janna lives in Plymouth MN.
My other interests are many. I love to hunt deer, fish, golf, go on vacations with friends and family, photography, landscaping, woodworking and watching sports. I used to be obsessed with playing basketball, but I don't play anymore. The Packers and the Wisconsin Badgers are my favorite teams. I am an active member of the Alma Center United Methodist Church. I am a Journeyman Tool & Die Maker which I have been doing full time since 1976. I am a very busy guy but I wouldn't have it any other way. I like to work hard and I love to play hard.
Thank you for your time,
Chuck Comstock